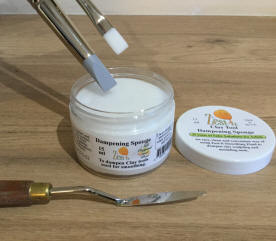 Zest-it Clay Tool Dampening Sponge and a selection of tools.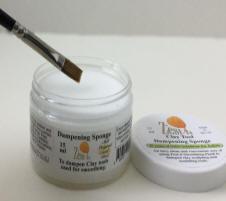 Easy to open pot with the sponge interior moistened with Clay Smoothing Fluid.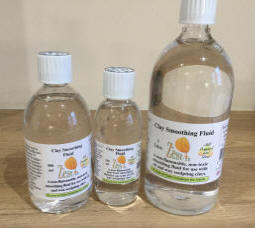 Zest-it Clay Smoothing Fluid use to top-up the Dampening Sponge.


The product isn't hazardous so no need for a Product Safety Information.
We have used this 'sponge in a pot' to help control fluid for other artistic adventures. Because we found only small amounts of fluid needed to mould and smooth the clay, dipping into a pot of fluid gave too much liquid!
We added 15 ml of the Clay Smoothing Fluid to the sponge and tried it with the tools shown, it worked very well to control the amount of fluid. Some of the clay was also cleaned off onto the sponge.... - optional.
It is a non-hazardous product, controls the liquid, saves knocking over bottles and saves wasting fluid.

It became apparent that people preferred to use their hands for the finer details. So we produced a more skin friendly fluid for this work, it still has a citrus smell but not as aggressive as most of the other products that are available.

Once smoothed the area was left to air dry.
It could be worked on the next day, or next week or next year.

Working the brush into the clay with Smoothing Fluid will produce a fluid-like clay mixture, this can be used as 'slip' clay for sticking two areas together. Raking the clay also helped to smooth the surface before applying fluid.
The temptation is to thoroughly wet the clay with fluid, but this is counter productive, better to use less fluid to assist the tool, we found it best to use the Smoothing Fluid sparingly.
The Clay Tool Dampening Sponge works very well to dispense small amounts of fluid for smoothing the clay. Just press the brush, knife or shaper onto the surface of the sponge.

We found different sponges also worked to smooth the clay, these could be wetted by pressing onto the Dampening Sponge. We do have spare sponges for the pots.
There are different ways of working and with various tools, everyone will find their own way and with a safer fluid than previously.
The Clay Smoothing Oil we have can be used to soften the wax if it does dry or to make more controllable. This is an oily fluid so can be used not only to smooth but also make the clay more malleable. Use the link above for more information.
Do not throw the un-used liquid or brush washings down the sink, place on damp soil or sand in a tin.

Sizes available - 125 ml; 250 ml; 500 ml; 1 Litre.
If you wish to purchase from ourselves you can find it in our Zest-it.shop along with the full range of Zest-it Products.

Copyright© Jacqui Blackman 2019