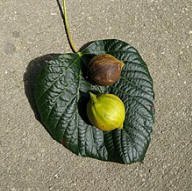 Leaf, Fruit and Pit of the Tung tree, the oil comes from the seed or pit inside the 'nut' which is actually a Drupe same family as peaches and plums.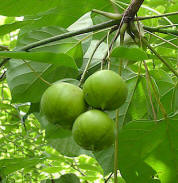 Young Chinawood fruit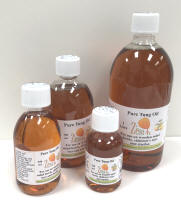 Zest-it Pure Tung Oil Group
.
Tung Oil has been in use for thousands of years by Asian countries for the preservation of paper, wooden boats, varnish, paint, cloth, also as a coating for food, drink medical containers and wire insulation.
The Chinese for instance have utilised the properties of Tung oil for eons, for caulking and painting of their boats, for treating leather, for waterproofing paper and cloth.
The fruit of the Tung tree is often called a nut, although technically it is not, it is actually a Drupe.
A Drupe is basically a stone fruit, its a fleshy fruit body with a thin skin and a central stone containing a seed, for example a plum, peach, cherry or olive.
They are about the size of a tomato, which starts as green in colour gradually changing to a purple/magenta colour on ripening. The fruits grow in clusters, each yielding four or five pits or stones. The seed inside the stone contains the oil and it is cold pressed to release it
Tung oil or China Wood Oil is arguably the best natural finish for wood. In over 100 years of development of synthetic resins and varnishes no one has developed a coating that surpasses the overall performance of natural Tung oil.

Tung Oil is a drying oil obtained by pressing the seed from the pit of the Tung tree (Vernicia fordii). As a drying oil, Tung Oil dries upon exposure to air just like Linseed Oil.

The resulting coating is transparent, waterproof, and flexible, a property exploited in most of its applications, which include wood finishing and the composition of traditional oil paints caulks, mortar and India ink.

Tung oil is used on wooden toys as it is naturally non-toxic when dry and is not affected by mould like Linseed oil. Tung oil is valued for its ability to move and flex as canvas, cloth, paper and wooden surfaces expand and contract with age and changing temperature.

Other unsaturated natural plant drying oils, such as Linseed oil or Castor oil take longer to dry than Tung oil. Tung's natural ability to dry into a tough waterproof, flexible finish has made it especially valuable. It was originally used in traditional oil paint manufacture in the past, but lost favour when the expense of the product became prohibitive, Linseed was then the saviour of oil paint and varnish.

Our Zest-it Pure Tung Oil is cold pressed and contains no VOC's or driers or adulterants.
We also have a complimentary Tung Oil Dilutant for thinning the oil as required.

Copyright Jacqui Blackman 2020
You may also be interested in our Zest-it Tung Oil Dilutant for thinning the oil, for progressive dilution when using on wood.

MYTHS AND FACTS ABOUT TUNG OIL